The thickness of the disc is 36 mm
The design of bigger vents provides a better function of heat dissipation.
The surface of the aluminum centerbell is anodized. It will provide a better durability.
The design of a two-piece disc can effectively reduce the weight of the brake system.
Aluminum 8 POT caliper (Standard color: painted red, painted yellow, painted gold, painted black,
anodized black or any other painted colors by customization)
High stiffness brake bracket with high ductility bolts
Stainless steel Teflon brake lines
GG level high performance brake pads
(Sport and Race brake pad are available as well)
All applications listed on our website are for 2WD model unless we specify 4WD


DISC
The discs from XYZ are the best choice of high performance car models. Ventilated ribs with large diameter can smoothly lead in a great amount of airflow from inside to outside. It will make a better function of heat dissipation. The design of drilled discs can enhance friction factor, reduce the weight of discs, take out the high temperature immediately produced from working, and keep stable braking function. The thickness, 36mm, of the discs can provide a better structural strength. This 420mm brake system is suitable for a 21 inch or a larger wheel.
We offer standard drilled disc and slotted disc for customer's option. If you have any preferred slotted disc style, we provide customized service with extra cost (the minimum order quantity is only one set).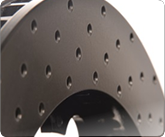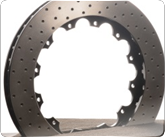 FLOATING DISC
XYZ's floating discs are available for 330mm, 355mm, 380mm, 400mm, 420mm, 444mm. XYZ provides floating discs for 380mm, 400mm, 420mm and 444mm brake systems. No extra fee required.

CENTER BELL
The center bells are made of aluminum. They are equipped with the characteristics of lightweight, good heat dissipation and high structural strength. The surface is processed with anodization. It makes the center bells harder, increases the durability of weathering, the duration of usage and beautifies the appearances.
CALIPER
High performance aluminum 8 POT calipers The standard colors are painted red, painted yellow, painted gold, painted black and anodized black. You can choose any other painted color to fit your car.
Painted red, yellow, gold, black and anodized black are our caliper standard colors.


BRAKE PADS
After XYZ tests several kind of different brake pads from racing competitions, the brake pads that XYZ chooses are equipped with high performances.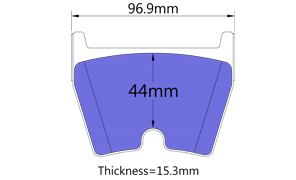 Confirmation of installation