XYZ was founded in 1998, Taiwan-based leading manufacturer and supplier of high performance coilover, brake systems and forged wheels with 150,000 sq. ft. manufacturing facility. XYZ has had excellent experience of making high performance for over 20 years, all product designers with over 10 years background in international racing competitions are retried and work as engineering and testing team. We have been committed to making and offering quality products for a few well-known brands in Japan and USA, and combine European, American and Japanese technical expertise, capture advanced process knowledge, continue R&D through innovation for high end auto sport parts and solidifying our leadership position in motor sport industry. All XYZ components are inspected strictly through quality control program, and all products are manufactured in accordance with ISO 9001 standards. We have made custom coilover systems for over 70 racers worldwide so far. We are a sponsor of Alfa Romeo Racing Team at WTCC (World Touring Car Championship) for 2006 and 2007 and of ACSCA in 2006 and 2007. Our products are tested fit on physical vehicles through global racing teams, in addition, we use the advanced equipment to test each set. XYZ equipped vehicles have captured numerous racing championships.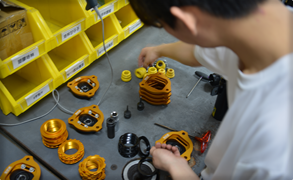 XYZ coilover/brake kits are distributed through many dealers and sole agents in the world. The number of XYZ dealers and sole agents is getting more and more every year due to our high quality and competitive prices. XYZ has very good business relationship with the sole agents in China (including Hong Kong and Macao), Japan, Czech Republic, Philippines, Portugal, France, New Zealand, Russia, Australia, Greece and so on.
Innovation, technology and quality are XYZ commitments to consumers. We will continue development through innovation of brake and suspension technology. We bring you to the ultimate performance, it's much more than a slogan.